Trico-Fix Shampoo takes care of your hair reducing hair loss, strengthening hair from root to tip, leaving the hair stronger, more resistant and shiny.
BENEFITS
>> Anti-hair fall;
>> Nourishes and shines;
>> Strengthens from root to tip;
>> Noticeable results already in the third application.
THE POWER OF GREEN AND WHITE CLAYS
>> Rich in minerals and have high power of absorption of toxins, heavy metals and other impurities;
>> Transfer nutrients and minerals that benefit the health of the skin and hair;
>> Helps to treat damaged hair and is a strong ally in the fight against oiliness as it is an excellent astringent, helping to deeply clean the scalp;
>> It has bactericidal and antiseptic action and helps to control and reduce hair loss.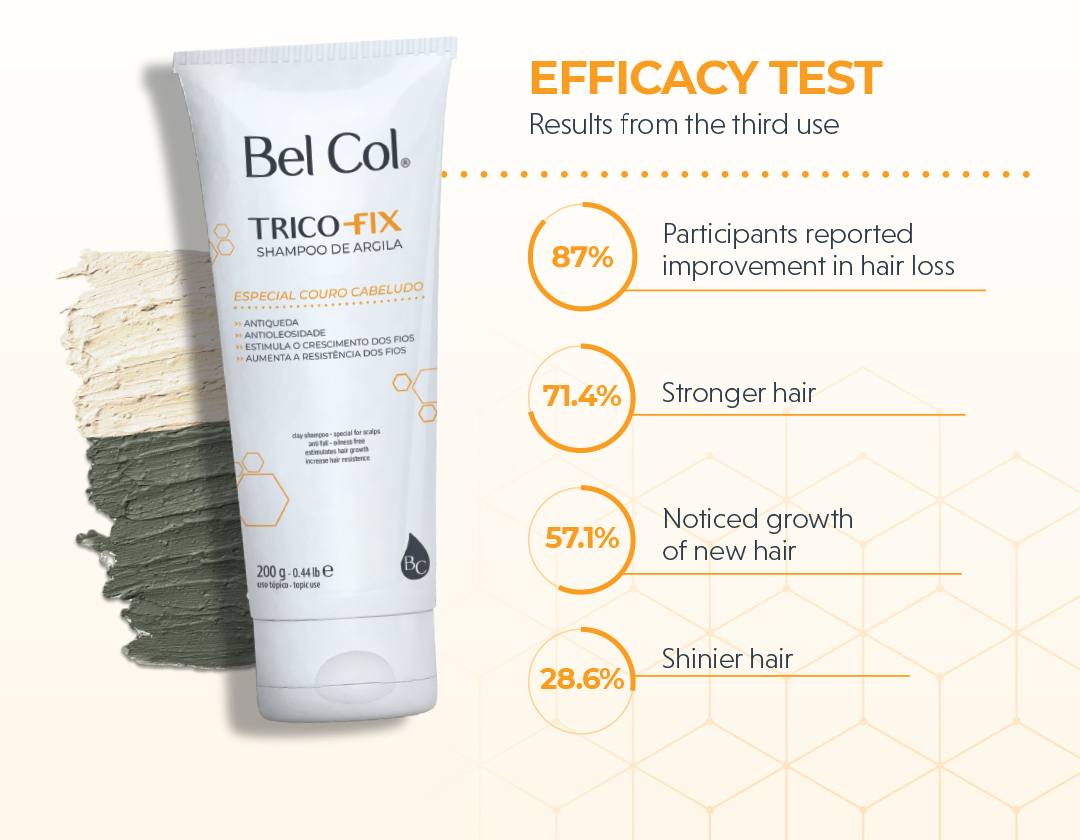 KEY INGREDIENTS
>> Green Clay, White Clay, Sodium PCA and Rosemary Essential Oil.
Other Ingredients (INCI)*:  Aqua,  Sodium Laureth Sulfate,  Kaolin,  Magnesium Aluminum Silicate,  Cocamide DEA,  Disodium Cocoyl Glutamate,  Sodium PCA,  Cocamidopropyl Betaine,  Phenoxyethanol,  PEG-40 Hydrogenated Castor Oil,  Sodium Chloride,  Rosmarinus Officinalis Leaf Oil,   Sodium Sulfate,  DMDM Hydantoin,  PEG-150 Distearate,  Ethylhexylglycerin,  Sodium Glycolate,  Sodium Benzoate,  Stearic Acid. 
* We work to keep this list of ingredients up to date, however some formula developments can be made to always guarantee the best efficacy and safety in our products. To ensure the correct list of ingredients for each product, please consult the packaging. Bel Col reserves the right to make typographical errors.